It's important to protect your email
Reasons to use the Advanced Threat Protection
What London Systems do
We do a lot of network control; prevention, monitoring and upgrades behind the scenes as part of our support. We cover all known access and entry points for viruses, malware and any other nasties that could cause problems.
We also sort out more serious problems too. But what we can't do is completely control how our end users use applications like email (big entry point for viruses) and the attachments contained within the email message.
Recommendations
We can't tell end users not to open attachments – people need to send documentation via email. But we request that people don't open attachments from unknown sources. We instead recommend sharing documentation in the cloud (via OneDrive and Sharepoint). And we also recommend the Microsoft Advanced Threat Protection.
1. Protect against unsafe attachments; all suspicious content goes through a real-time behavioral malware analysis that uses machine learning techniques to evaluate the content for suspicious activity. Unsafe attachments are sandboxed in a detonation chamber before being sent to recipients.
2. New malware campaigns are being launched every day; protect your mailboxes against new, sophisticated attacks in real time.
3. Protect your environment when users click malicious links; while the content is being scanned, the URLs examined in real time. If a link is unsafe, the user is warned not to visit the site or informed that the site has been blocked.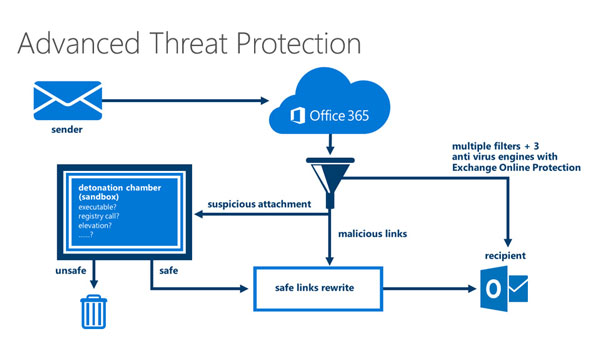 virus noun [C] (COMPUTER PROBLEM) a computer program or part of a computer program that can make copies of itself and is intended to prevent the computer from working normally