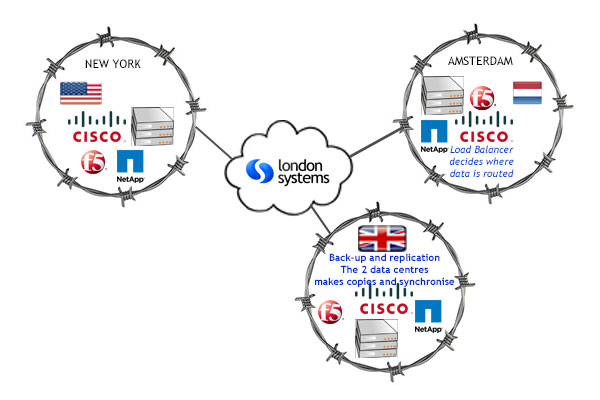 Our Data Centres keep your data safe
How Resilient is the Data Centre Design?
We have multiple data centres around the world. This means that the network your data travels on can easily be re-routed to another data centre should there be a failure. This makes it very robust.
If the network is so robust, why do we sometimes get failures?
All IT networks fail at some point, there is no such thing as 100% 'up time'. The strength of your IT provider is based on the level of security around the network (like the firewall). The measures taken to reduce the occurrence of failures and how they deal with failures when they inevitably occur.
We aim to have 99.9% 'up time' on our virtual desktop platform. This level of 'up time' is classed as 'high availability'.
What's the difference between High Availability and Disaster Recovery?
High Availability involves hardware and software platforms working in tandem so if one fails, the other carries on the work. Disaster Recovery is more associated to getting you back up and running in the event of a natural or man-made disaster.
It can be as simple as a power outage or as extreme as an explosion. It's almost always due to external factors and not within the network itself. Something will prevent the data flowing around the network.
What happens if there is a failure?
If the network is interrupted, we automatically re-route it to others servers and/or data centre. This means that most of the time you won't notice any change to your IT service. The fact that we have data centres in different geographic areas means our services are unaffected by localised issues such as power outages, flooding, etc. They are also rarely affected by serious failures. We also operate an N+1 server level – there is always at least one spare Server available as a 'hot spare'.
What is a serious failure?
Where we have to implement our Disaster Recovery procedure – this is where a failure is expected to last for more than 1 hour due to a major incident.
Every component of our infrastructure from switches to servers has an equivalent spare in place and active in case the first one fails. We duplicate all of the hardware and the software across our 2 Data Centres in London and Amsterdam. All of your data is mirrored and synchronised in real time on both servers so the transition is usually transparent.
How does this apply to my Internet connection?
We use multiple internet providers so we can switch to the available provider at any point.
What about the data itself, couldn't someone just read it?
No, all the data we protect is encapsulated, encrypted and decrypted in addition to the extremely powerful Firewall in place. And all of our Data Centres adhere to the ISO compliance levels of security.
What else can you tell me for peace of mind?
We always choose 'best of breed' partners and that's because they are experts in their field, as are London Systems.